6 Factors To Consider When Selecting Online Training Software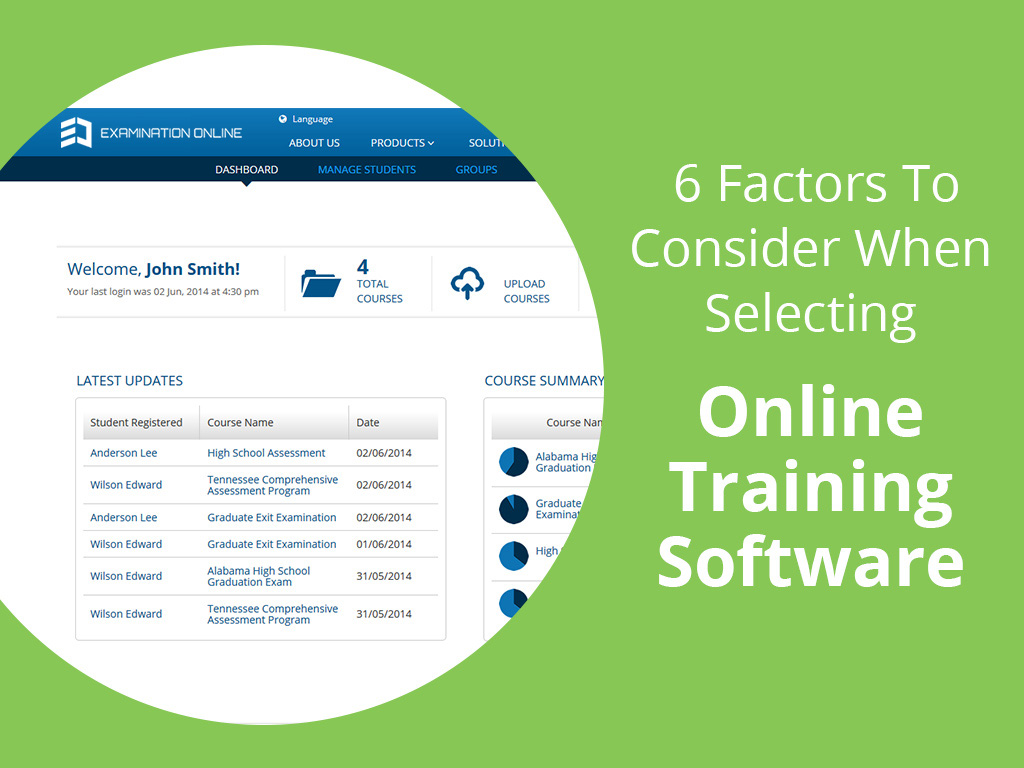 Choosing the right online training software with required features and functionalities for your trainees has never been easy. Failing to do so, you end up buying a misfit, which costs heavily to the organization.
Zeroing on an online training software must have a thoughtful approach. This ensures you don't have unpleasant experiences, once the currency is exchanged.
Examination Online enumerates some ways to help you select an online training software and fetch better returns on technological investments.
1.Define your requirements and evaluation criteria
Before you start looking for a software and available options define requirements and evaluation criteria succinctly to facilitate decision making. The process of procurement becomes uncluttered,  once you have a clear set of requirements.
Evaluation criteria could be several. Important ones may include cost, features, scalability and reports. Identify, how much you can shell out for the software? What essential features you need  and which ones are nice to have? Prioritize all these and then assess tech vendors who offer custom LMS.
Doing homework well before getting started with the selection process would help you understand software better and decide accurately.
2. Assess learning approaches
It is important to understand that each organization or institution has a specific set of requirements. It aligns to the nature of services it offers, available skill set and preferred learning approach.
Any online training software must be selected considering following:
An interactive training can offer great learning experience for soft skill development. While, video based training or powerpoint presentations befits technical or tech support training.

Apart from learning by video, presentations and audio files, training software offers other learning approaches also. These could be gamification and/or scenario based learning.
Hence, make sure you define your multimedia requirements and assess software support.
3. Identify ease of use
Having a software at your disposal answers one concern, its user friendliness is second to none. Considering this, you must narrow down the options. User friendliness gets primarily defined by software functionality and accessibility. So, check:
Is the training software offered – mobile responsive?   

What if, you do not have a dedicated engineer to operate it?

Will other team members be able to create a lesson or assessment? And how do you figure this?
Discuss with other team members the functionalities you may require for your training software. This will help you get a holistic requirement. While demoing a solution, try involving team members to vet its utility at various levels.
4. Map reporting and analytics capabilities
You would always like to gauge the utility, benefit and ROI of the online training software installed, at the macro level. Similarly at micro level too, trainers would be keen to know effectiveness of training delivered and map learnings.
Having a thorough reporting system integrated in the online training software help you do this precisely.
The reporting system  must provide insights like –  courses completed, trainee scores, site visitors and time taken to complete training levels.
In crux, the software must be equipped to offer course level, trainee level and series level reporting to keep a tab on the entire initiative and its utility.
5. Is free trial or demo offered?
Just like a car, consider taking a 'test drive' of the software to understand its features and functionality. A demo or free trial lets you do this. To meet this end, many tech vendors offer a chance to try products before you buy. However, there might be some who don't.
Ideally you must shortlist those vendors, who either offer a demo or a free trial. The softwares that may look just apt on papers may or may not necessarily live up to your requirements, when it comes to application.
Schedule a demo or free trial to adjudge – the user interface, mobile responsiveness, registration process and the administrator dashboard – for trainees management. 
6. Consider support services offered
Recounting decision making process of the car again. Of all the factors we consider while buying, service support remains a defining one. Quite similar is the case with procurement of training software.  
Make sure you answer some concerns like:
Is the software scalable to accommodate expected increase in number of trainees?

What are the various types of hosting service on offer?

How will the software be updated and secured to ensure its maintenance?
Conclusion
Once you are done with all these factors, create notes, may be on spreadsheet evaluating all tech vendors against a set of criteria. Discuss these with right team members so that you get closer to deciding the apt one.
The basic purpose of any training software must be to create and deliver meaningful training. Willing to explore, why a custom white label LMS can be beneficial to your organization?
P.S. Can we send you an email?
Once a week or so we send an email with our best content. We never bug you; we just send you our latest piece of content: