7 Webinar Software for Continuing Education : Know Your Options
Educators seek for new, unique, and highly specialized software to get better with time. Webinars are improving the education system and benefiting both, continuing education providers and learners. It is a virtual workshop or webcast with speakers and audiences. Its interactive features make it useful and broaden your range of services.
You might be new to webinars or must be looking for a suitable and beneficial replacement for your organization. Finding the best fit in the desired budget becomes a herculean task owing to the unlimited options. You won't find this information all together in one place. With that in mind, we brought together insights from real users of different webinar software. Read along, evaluate, choose right, and buy better.
GoToWebinar

Onstream Webinars

Zoom

WebinarNinja

WebinarJam

Adobe Connect Software

AnyMeeting Software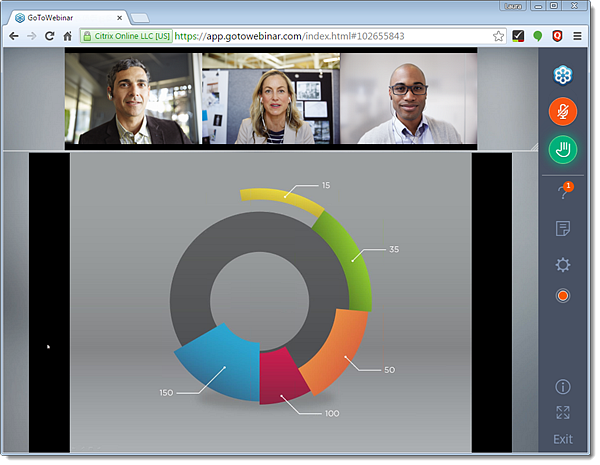 This is a simple, reliable, and straightforward platform with an easy-to-use interface for you and your attendees. It's self-explanatory, so anyone can access it with ease. You can schedule a webinar for a large number of people within a minute through just a click. A unique link, phone number, and access code automatically delivered via email to viewers to join the webinar.
You can share content with your attendees in real-time, and offer an interactive experience with the use of polls, Q&A, and chat functionality. It has a toll-free call option for attendees to connect from across the state, country, and sometimes geographical lines. You also have the ability to mute all participants, and get immediate feedback.
GoToWebinar saves you time by sending automatic, and custom follow-up emails to attendees, and a separate one for people who registered but didn't attend. You have the option to add it to your calendar. You can also track your registrants, attendees, and time they spent in the webinar. It's good for those, whose audience capacity exceeds according to needs.
The quality of audio and video remains consistent, and is quite good as compared to others. There is a relatively little lag time when broadcasting as compared to others. If your attendees are unable to see the presentation, they can hear it or record it to listen or watch later. Convert webinar from its original format into .mp4 format to share, and upload it on the web. You can also integrate GoToWebinar with other tools, and gain huge benefits.
What's not so good– GoToWebinar offers fewer customization options, especially for reminder emails. To download it, you need to update your OS. It also requires you to download the app. Can only share one screen during one webinar. It does not record the webinar automatically, you need to click the record button. If you conduct your webinar solo, and use single monitor setup, it becomes cumbersome to conduct a presentation, take audience questions and chat, all at the same time.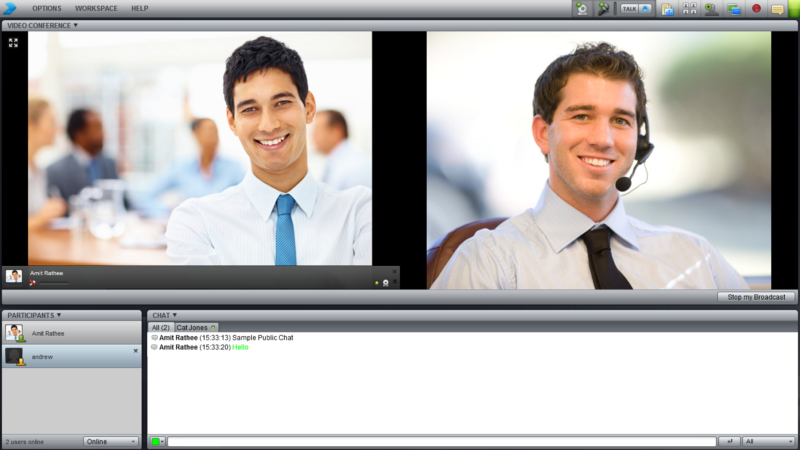 Onstream is an easy-to-use, scalable, and cost effective webinar software, ideal for training. You can set up, and run your webinar in no time, and brand it with your logo, banner through a great platform that does not break the bank. To access it, no software is required to be installed.
It's a simple to use webinar platform with various possibilities. Provides webinar with phone line where attendees can call, and listen to your webinar. It's great for those who don't have speakers or headsets.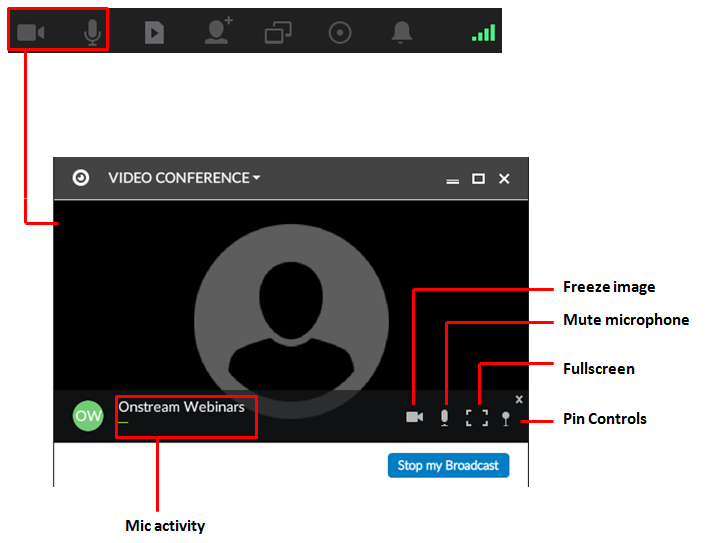 It has a feature to add tabs on the main presentation window, which is a brilliant concept. You can cue up your items like PowerPoint, video, images, documents, links, and anything else you would require for your presentation. You can easily switch between tabs, and save a lot of time. It completely eradicated the need to switch between windows, and returning back to the main presentation window.
You have the ability to keep your data like PowerPoint presentations, images, documents, and more in its library. Easily pick your data, even during a live webinar. Just drag, and drop on the main presentation window like a new tab.
This is a cloud-based service which enhances interaction by hosting a webinar from remote locations. You are able to get with so many attendees, and also get feedback during the process. Securely share your data with attendees — desktop or mobile users.
What's not so good– The interface of Onstream is initially difficult to use, and understand. No video demo available to understand how to do a webinar using it. It's not clear how to logout or end a webinar. You can't run a non-live webinar to test it, and even can't record the live one. It does not a have number of pricing options for the number of attendees per webinar.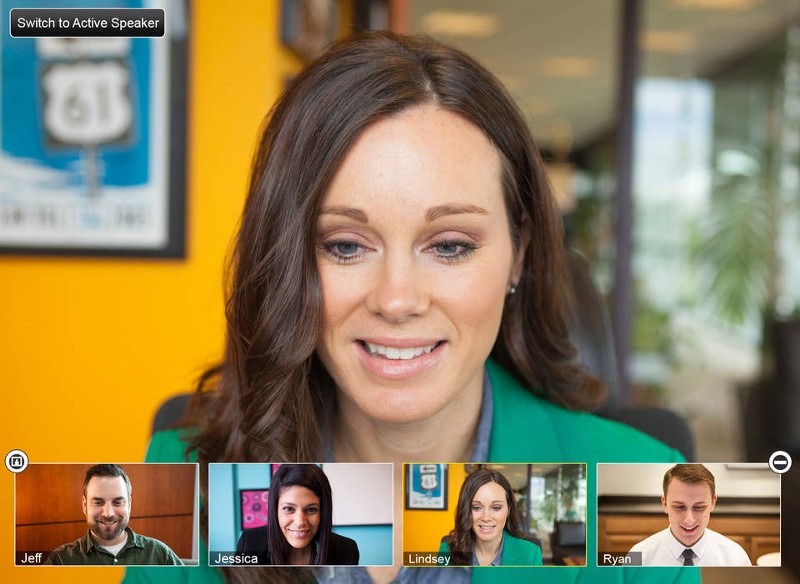 Zoom is an easy-to-use, functional, cost-effective, and reliable software that works with any device. The panel when you first open is simple so you can't go wrong. Anyone can navigate Zoom with ease. It takes a few seconds to download needed software. It doesn't take long to install or join. You can start a session, and send the link to attendees quickly. The benefit is, attendees don't need an account to join, and it works with a phone call too.
You can use free for up to 40 minutes. The quality of audio and video is high, and is same in both free and paid versions. Support is impressive, even after you become a paid user. You can have up to 3000 attendees on a webinar. It easily integrates with slack. There are record, and share option for later review. Place a reminder, and link it with google calendar.
Anyone who is unable to join the session can call to hear the audio. Zoom allows you to connect the camera, and audio via computer, tablet, and smartphones. Everyone is able to view others faces. Mobile version of the app allows you to utilize your phone when you travel, and still have the same quality session. It doesn't cut out like other systems.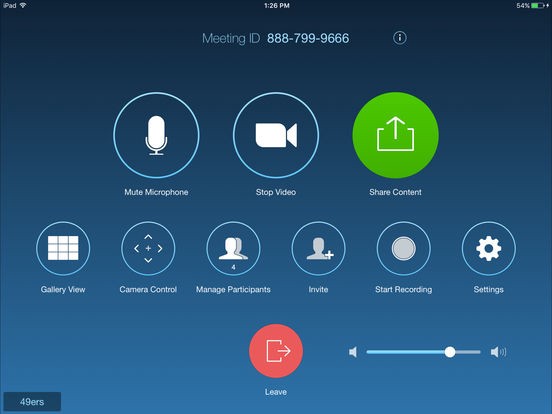 You have the ability to turn off camera, control attendees' mics & share hosting duties. Everyone can share their screen. Cloud recording is available on a timely basis. Chats can be easily downloaded. Zoom offers "small group breakouts" service which allows you to set up small groups of students. It enhances teaching ability by as students can discuss content, and share in small groups or even pairs.
What's not so good– It's not that self-explanatory for first-time users. It doesn't walk you through the process. Sometimes the video quality is not great. It becomes blurry, and then begins to freeze, noticed on a mobile device with or without wifi. Unfortunate battery drainage. Some features don't work on older systems. Updates are available regularly.
It allows others to make changes to the shared files without you having control to place any restriction such as who can edit it. It's pricing structure is not good. Chat is poor. You cannot download polls result of attendees who did not register. UI is not good. It doesn't provide any preview.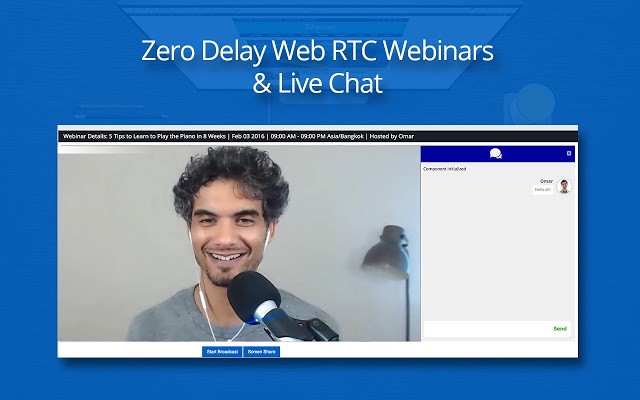 WebinarNinja is good for basic users. It's an advanced, and a complete webinar solution as it was built out of frustration with the current solutions. It's the fastest way for you to serve your attendees with information. You can create a webinar in just 10 seconds. It's a simple, clean & professional tool. You can set up webinars which are always in real time with zero delays. Videos, and audios are of high quality.
You can run a live webinar, evergreen webinar, and hybrid webinar using this. It offers features such as chat, Q&A & polls in both free and paid versions. Easily customize & design your webinar page to fit your brand, and style. You can have up to 100 live attendees. It has an automatic email reminders. You can create a maximum 2-hour webinar, and record it automatically. Offers unlimited customer support. It doesn't require any extra add-on software.
What's not so good– Some of the webinars are not accessible on every device, and need to be run on a computer. The lag time is more sometimes. 100 live attendees might be limiting. The email sent are not logical. The quality of the recording is not great. There's a stamp of the brand on every page, and email which can't be removed. Less customization option with the templates.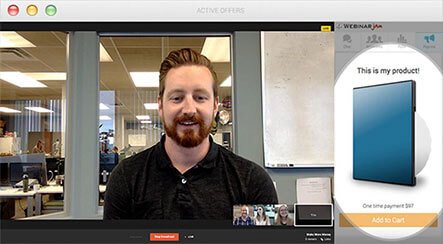 An easy-to-use software that provides you with complete control, before, during and after your webinar. You can quickly set up webinar using pre-formatted landing page designs. It has no limit to the number of participants. It's based on Google Hangouts therefore always online, and performs amazingly.
WebinarJam is an inexpensive tool to use for training webinars. Your videos get automatically recorded, and uploaded to YouTube. Allows your webinar attendees to interact through video or audio. Offers real-time polls, surveys, and public/private chat rooms. The sound, and audio quality is good.
You can send reminders for your webinar and perform segmentation on your mailing list. For instance, it's possible to assign a participant in the chat as a speaker during your webinar, allowing this speaker to use his or her webcam to give a presentation. You can integrate it with a large number of email service providers. You can also create paid webinars.
What's not so good– Hard to use, and navigate for the first time users. The time delay is something that comes from WebinarJam's integration with Google. There are no warning signs that any field has been left out. There's a lag time switching from camera to screen sharing. If you don't take manual actions, your webinar gets automatically posted on YouTube, and you can't even unlist it.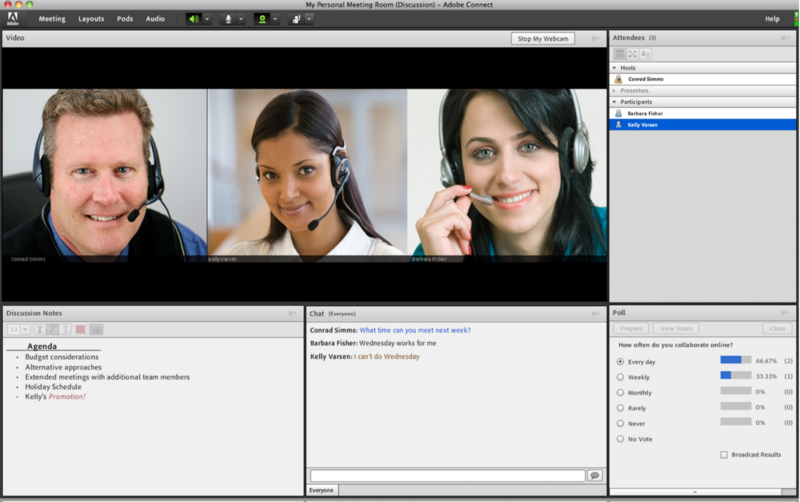 Adobe Connect is easy-to-use, and reliable webinar software that offers lots of additional functionality with a simple interface. You can easily set up a webinar, and upload documents to be shown on the screen. Its screen sharing option allows you to choose whether to share your whole screen, an application, or just a particular window.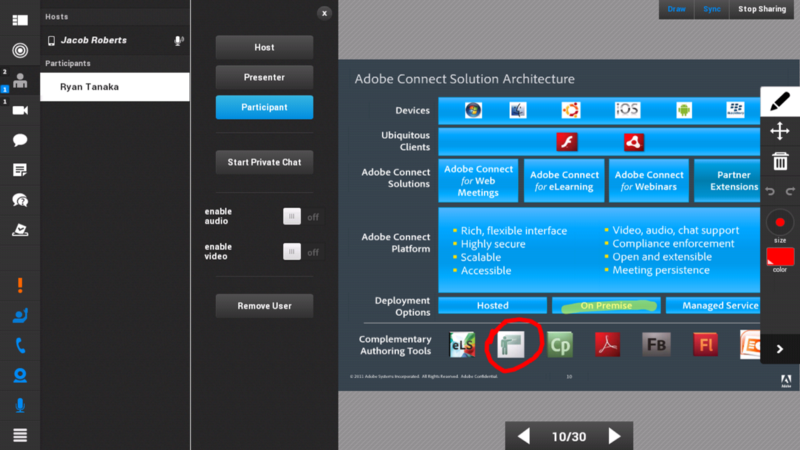 You can use it for online training or to teach classes, and have full control of the classroom. Easily set up webinar, give or take away mic rights, start individual or group chats, change attendee's role from participants to presenters, and share hosting etc. The audio and video quality is good. You can record your presentation for reference or later use. You can also create a custom URL for your event, and use it for promotion.
What's not so good– It's expensive. The UI is not good. It may not work on every browser. PowerPoint takes a long time in loading. The video sharing resolution is low. It offers lesser editing functionality for hosting, and recording. Recordings are in-app, and you can't export them as mp4 files for sharing. The chat log is unformatted. You need a dual monitor to use multiple screens.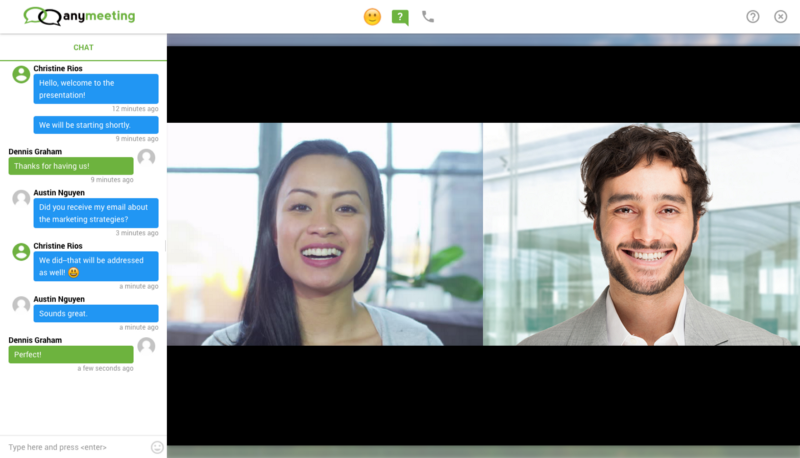 AnyMeeting is a full-featured, easy-to-use, and reliable webinar tool designed for small organizations. It's flexible, and scalable. You can quickly set up a webinar, and control many things. It provides all the features you need to collaborate with remote audiences in one simple, affordable package. It offers support for up to 2000 attendees. It requires no download for your attendees.
It offers multiple presentation modes to connect with your students in an interactive way. You can easily share the screen, and audio/video clip. It also offers polling, hand raising, and feedbacks. You can record and download everything for later use. Your students can chat with each other, watch presentations, use their microphones, see each other over webcam, and discuss questions in the chatbox. This will help you boost your student's morale, and help them stay motivated.
What's not so good– People find it difficult logging in with video, and it's difficult to switch between video and audio during a webinar. You have to logout, and come back again to overcome any issue. But sometimes, it doesn't allow you to log back into the live session. When someone attends the webinar only through the phone, the system announces to them the number of people "currently" in the room. However, this is only the number of people attending via phone, which can be disappointing.
Following table is based on reviews from various users –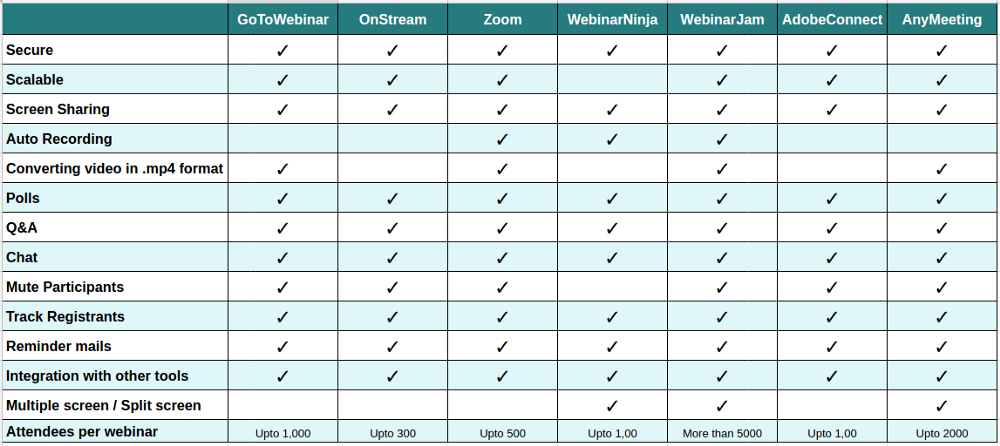 Apart from the tools I mentioned above, there are many other resources out there that can help you hold successful webinar such as Webinars OnAir, Cisco WebEx, MegaMeeting, ReadyTalk, ClickWebinar & more. To find the right solution, you must know what you want, what you need, and you'll be able to trim down the list of appropriate tools quickly.
Read the article "Selecting The Right Webinar Software for Continuing Education" to discover the solution that's beneficial for you and your students.
If you're looking for custom online training solution, checkout examinationonline.com. We have some powerful tools to showcase.
P.S. Can we send you an email?
Once a week or so we send an email with our best content. We never bug you; we just send you our latest piece of content: