Capturing the essence of learning with Videos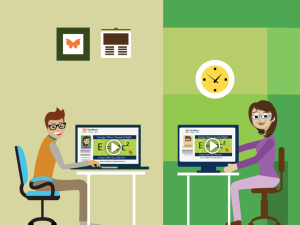 Learning Management Solutions have consistently undergone changes to enhance engagement, learning and retention by users. New genres have been adopted and redundant ones discarded. In this process, the developers have always attempted to create LMS which resembles the real classroom and learners get the essence of course. Introduction of videos in LMS have been one such move which turned to be a breakthrough.
While the impact of visuals in learning process were never undermined, its introduction in LMS blending technological edge with enhanced involvement of senses made the entire process worthwhile. Something that has really given a push is ability to access these platforms across devices like smartphones, tablets, laptops and desktops.
The reasons behind prevalence
Several reasons can be attributed to the prominence of this learning methodology:
Video based learnings has increased ability to engage learners with visuals and audio. It caters best to the learner's prerequisites.  

This schema has by far yielded better understanding, responses and retention.

The increasing emphasis of learning with ease across platforms and devices has pushed video based learning, as popular option as learners prefer visuals over reading long texts and materials on small screens.

The retention is higher with presence of visual elements making it a popular choice these days amongst institutions to choose it.

Video based learning enjoys an edge for complex and technical programmes like engineering and medicine.

The involvement of human element that too over mobile platforms offers convenience to learners to access platform at their ease and as per individual learner's schedules.
The right strategy elements
Some of the strategic elements that Examination Online emphasises on, are:
A learning management solution aims at catering the learner and their learning requirements to meet its end. But introduction of videos does not alone have the fortitude achieve desired learning objectives. It must be well timed, planned and created in a manner that it fits in learners' attention span.
Weaving elements of interaction can further overcome the disadvantages of a monologue and keep learners more involved and lets them respond with queries, concerns and feedback.
To ensure learning, the elearning courses can get supplemented with host of mediums. LMS  can support text, notes to enable learners capitulate all whatever videos have contained to repeat and ensure the message goes down through all mediums well in a uniform manner.
Discussion forums and threads combine to make a useful element which all learners look forward to. It must be bundled along in a thoughtful manner so that users, learners can connect,  discuss, share, comment and resolve queries on a topic.  
A responsive platform further garners support from learners as it helps them utilize their down time as well. The lessons gets delivered across screens and devices facilitating learners to make best of available resources.
To conclude, a well planned and written content is essential for creating any e learning course.  But to make it transformational and memorable it must include all elements that supports different learning styles be it through videos, texts, notes, interaction tools and discussion forums.
In the long run the course with features like scalability, responsiveness, uncluttered design and a great content leads the run to stand out and attain its objectives.
P.S. Can we send you an email?
Once a week or so we send an email with our best content. We never bug you; we just send you our latest piece of content: