Exam practice & analytics platform — MySATprep— Case Study
Armed with an idea, Aruna called us to build a licensed software for the purpose of providing SAT tutoring online. She wanted to help teachers save time in building data reports and make it accessible on any device. She had Q&A database released by the College Board and was looking for someone who can turn her idea into reality.
She needed a platform which would offer students to take tests online as well as offline. The offline mode was required to make the testing process easier for students who were not ready for time bound online tests. So, we built two "Test Player Modules", vis-a-vis-
Computer-based tests, where students can directly answer online.
Paper-based tests, where they can download the answer sheet and then submit it online for evaluation after completion.
Aruna's vision was to make these tests helpful for practicing. We started working on the theme she set — Plan, Practice, and Perform. We added features to mark questions during the test so that the students can get back to them after completing. Features included-
Guess — It shows that the answer was a guess.
Flag/Return Later — It means that the student wanted to see the question again.
Difficult/Bookmark — It shows that the student found the question difficult.
We called it the "Practice Module" where students can take a retest, but only once. Students can also build tests themselves using incorrect, skipped, and bookmarked questions from the completed tests.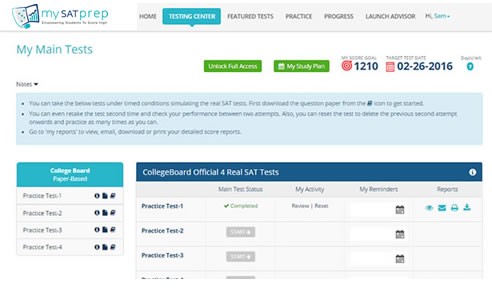 In accomplishing her vision of helping students in learning from their mistakes we then built a "Review Module". Here students can perform following two actions-
Try questions again after finishing the test.
See how they answered, what the correct answer is, the answers explanations, and note mistakes.
Though many online SAT tutorials provide the above features, it's the "Report Module" that makes MySATprep stand out. Here, students can see their progress in three ways.
My individual test performance — Students can see detailed information about each question on the test.
Overall progress — Students can see an overview of the test result, time analysis report, and error analysis report (Mistake Journal).
My score card with actionable feedback — This was our favorite feature of this project. It enables students to see their strengths and weaknesses.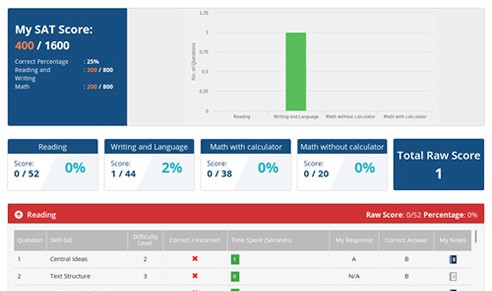 These reports provide areas for improvement, suggestions for making improvements in learning, and help in tracking progress.
Process Workflow
As it was an online tutoring module, we started creating databases. However, after working on it for several days, we had to dump it. Why? Because the client did not get the approval for showing questions directly online. This was a challenging phase for both of us.
She proposed that we should use PDFs for questions and ORM sheets for the answers. We had never designed something like this before and were ecstatic to begin the project.
We built a licensed software for conducting online examination for SAT preparation. Our focus was on making an organized, clear, and easy-to-use interface. As we wanted it to be responsive for multiple devices and operating systems, intuitive navigation became our biggest priority.
The project is based on questions for SAT preparation that are released by the College Board. Each question has predefined difficulty level, skill sets, and score. While creating or taking tests, teachers and students can select questions accordingly. After completing the test, scores pop up and are followed by a synopsis.
The software has three users — students, teachers, and parents. The student can prepare for the SAT online, teachers can provide SAT training online, and all the three users can keep track of the performance and progress.
Aruna was great to work with. She was one of our clients who provided us valued data — ready to use questions, answers as well as explanations, and score calculation sheet. All the inputs were helpful in developing the database and saved a lot of time.
While creating the project, we went through several iterations and testing phases. We got stuck at several places like creating a decimal drop down in the math section, creating timer etc, but soon it started flowing. Yes, this project took time because we had to design it from the scratch, the requirements kept changing, and the designs were not fixed. But in the end, we did it! 🙂
If you would like to create custom learning & training solution, feel free to check out examinationonline.com
P.S. Can we send you an email?
Once a week or so we send an email with our best content. We never bug you; we just send you our latest piece of content: