How to Measure Success of an Online Course?
Irrespective of the fact that you've spent a great deal of resources to build an online course, you can't just assume it to be successful. You need to  determine whether the course offered is effective or not.
A successful e-learning course must be able to measure  the results and determine whether learners find it useful or not. But, not all learning management solutions allow you to do so. Here are some factors to keep an eye on while incorporating LMS in your organisation.
1.Participant satisfaction
Learners are the best critic for your online program. Their satisfaction remains a determining factor to evaluate if your investment is meeting expectations. To do this, conduct a survey and collate feedback from learners periodically or after the completion of a chapter/ lesson depending on the length and nature of the course.
The feedback collated will help you identify course strengths & weaknesses as well as engagement and learning offered to enhance usability.
2.Completion rates
Sometimes extracting insights from a crucial factor remains simplest. Your LMS must be able to exhibit details of course completed by any student at any given time.
For instance, if you're conducting a technical training, track course completion over time and identify the choke points where you are losing some learners midway. To bring in a change in completion rate, try tweaking course a bit and see the change in completion rate.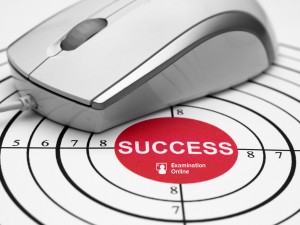 3.Skills and Competency
The main objective of any LMS is to enhance the skills and competence of users. An assessment that gauges learners' knowledge lets you determine its effectiveness.
With in-built assessment tools, quizzes and tests knitted throughout the course you can track the progress of learners and identify areas in which improvement is needed.
If you plan to implement a training in a specific area, an assessment can be conducted twice. One prior to the training and second after the completion. This process lets you identify how effective the online course has been in imparting the skill to learners.
4.Return On Investment
Evaluating company's return on investment for LMS can be tricky. It is difficult to map success of your online training without assessing its Return on Investments.
To calculate, estimate the costs involved in design, development and delivery of LMS vis-a-vis benefits associated with it like increased productivity & sales, reduced training costs, sales and reduction in customer complaints. On comparison, you can calculate cost-to-performance ratio and conclude whether online training is effective or needs improvement.
5.Analytics
Most online courses offer a detailed reporting to give an overall picture of the learners' progress in the course. Some of the metrics that can offer insights are time taken to complete a module, learner's progress in course etc.
If you realize that the time taken to complete a module is longer than estimated, then you may want to reduce its difficulty level.
The importance of tracking course
An effective online course must help improve learners' skills, retention rates of employees (in the case of corporate training) and profitability of your organization at large. By employing these tips you can measure the impact of your e-learning course and determine whether your online course investments were worth the investments or if you need to boost its effectiveness.
Evaluation of LMS is an essential element of an e-learning course. After all, if the effectiveness of an e-course cannot be measured then how will you calculate ROI?  
Willing to explore how to derive maximum ROI from an LMS? Contact us for a demo.
P.S. Can we send you an email?
Once a week or so we send an email with our best content. We never bug you; we just send you our latest piece of content: