Perfect Recipe for Social Work Continuing Education LMS — Case Study
Our client has been a leader in providing on-site courses and study programs. It helps social workers prepare for licensure examinations throughout the United States. Our client used to provide these services by selling CD Rom products of 700 practice questions. As the business continued to scale, he started thinking about expanding into new markets. He wanted to upgrade current system to an online system.
Learning Objective
Our client's mission was to scale a new business idea for providing multiple new opportunities to students preparing for license and certification exams.
Flexibility, adaptability, and ownership (for examiners as well as students) — these were the features that he was looking for when he started to think about upgrading his system. Specifically, he wanted to offer an innovative and interactive way to feature the courses he was selling. So, he decided to get an online testing platform and began exploring for options.
Story
While searching for a suitable option, he came across Examinationonline.com and contacted us. During the initial call, we discussed his requirements. He wanted an online testing software but had some unique requirements. Commonly, people demand a software which allows admin to create exams. However, our client wanted us to create a platform that would enable not only admin but also students to set up their tests.
Through the call, we identified that he need a quiz platform that would deliver self-directed learning and e-learning solutions. We suggested him that our quiz tool — Examination Online would best suit his requirements. He took a demo of our "Just The Quiz" tool, and we got the approval.
He provided us with a database of questions, and we started working on the project. We developed an online testing platform for Social Work License Practice with exams for Bachelor level, Masters Level, and Clinical Level. It has three end users — Admin, Students, and Universities. In phase one, we developed only two modules — Admin and Students. In phase two, client extended its requirements to create the third module for University.
Admin Module: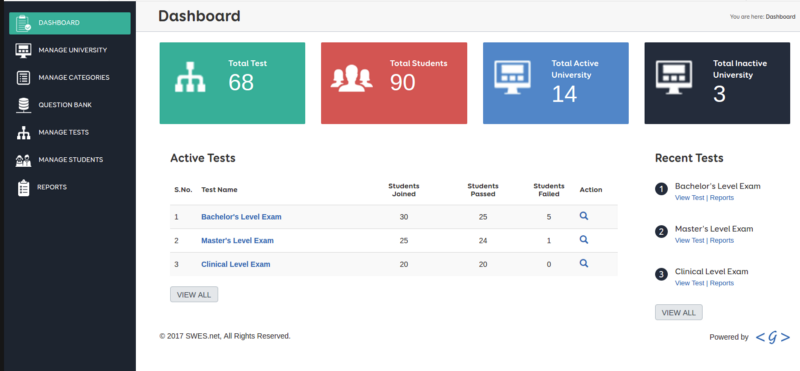 Admin can manage(add/edit/delete) questions, categories and tests.
Advanced options are also available to the Admin. They can set a time limit for tests.
Admin can create tests by randomly selecting questions from the available practice exams and question bank.
They can shuffle option while creating tests so that every student will get questions in different order.
Admin can view reports.
Student wise and
Test wise
They have the ability to give credits to universities for inviting students to take the test.
Student Module: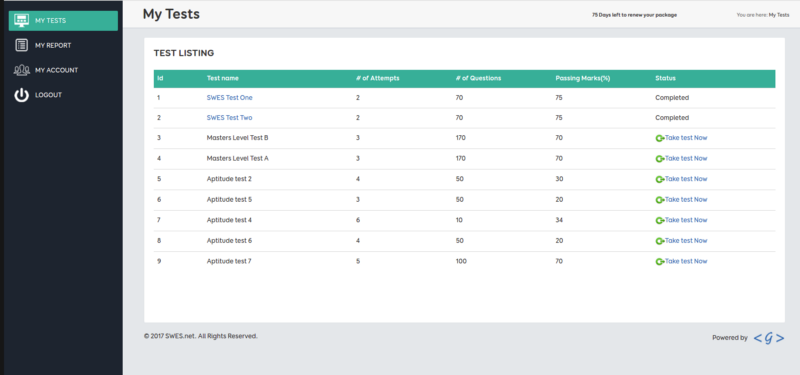 After submitting payment, students can get the link to testing platform. They can self-register themselves and get the access to available practice exams and question bank.
After login, students will land on the dashboard. They will have three pre-developed practice exams of 170 questions. All exams would be timed to 4 hours each.
They can also create their tests by selecting one or more option-
Questions organized by categories/topics.
# of questions.
Organize test with or without time.
The question selection made by students need to be randomized.
Student can-
View reports and
Correct/incorrect answers along with explanations.
Students can extend access to study material on a quarterly basis.
University Module:

Universities can manage(invite/edit/delete/deactivate) students.
Can view reports-
Student wise and
Test wise
The new product we developed, accomplished our client's goal while also dramatically improving the look and functionality of the platform.
Thanks for reading! If you are also thinking about upgrading your services as our client did, please don't hesitate to contact us here at Examination Online.
Like what you read? Give Examination Online a round of applause.
P.S. Can we send you an email?
Once a week or so we send an email with our best content. We never bug you; we just send you our latest piece of content: